Oct
12
2013
So... I installed crown molding in my home office this week... and it was the hardest and most frustrating experience I have had in a very long time... and I loved it! I'm quite literally covered in bruises and I have many a horror story to tell about the process. The good news is... it looks amazing (beauty is sacrifice, am I right?) and I lived to tell about it.
To complete this project, you will need all of the materials shown above in addition to a compound miter saw. You can also use any number of crown molding jigs if you do prefer, but again, this tutorial will focus on crown molding installation as the 'pros' tend to do it. Those 'pros', they know a thing or two...
Materials:
Safety Gear - eye, ear, respiratory protection
Ladder
Compound Miter Saw (one that miters and bevels)
Tape Measure
Framing Square or Carpenters Square (my personal preference for this project) - optional but helpful
Molding -in a style o

f your choice (I chose molding that is already finished to save time and energy on this project. It costs a bit more, but it was worth it to me!)

Blue Painters Tape or a Scrap Piece of Lumber (1x2) - optional but helpful

Pencil
I find it extremely helpful to keep my supplies in an easy access bucket when I am up and down the ladder every few minutes. Keeps me light on my feet and organized! 
​Overview:
We will work this project beginning with one piece that will be squared off on both ends and will be installed on the wall opposite the door, preferably. Then you have the option of doing the same for the opposite wall (to this first wall) and then making fancy corners for both edges of the two remaining boards (Installation Option 1).
OR
You can do what the pro's tend to do and work in a pattern with the second piece of molding for the adjacent wall (to the first) that will have one squared edge and one fancy edge, then do the same for the 3rd wall adjacent to that (and opposite the first wall), and for the 4th wall you will make both edges fancy (Installation Option 2).
This is entirely up to you and won't make much of a difference except that you will only cut left inside corners for the 2nd and 3rd pieces in the second option above and will cut both corners on the last board, whereas in the first option above you will only cut fancy edges on 2 of the boards and you will do both edges for those. Regardless you will make a total of 4 fancy schmancy cuts.
Let's get down to business. You should absolutely measure and mark out the location of where your molding should sit, on all 4 of your walls. If you install even an 1/8" lower or higher than you should it will throw off your angles substantially. This is where I like to use a framing square, because for me it gives me a more accurate measurement. I simply slide it along the ceiling line and mark at my measurement. I get crazy with a tape measure sometimes and my dimensions aren't always accurate especially when I'm working in the very tiny fractional measurements. 
When I am working alone (or even when I'm not) I find it extremely helpful to install a support board just under where my molding will sit. This provides me a bit of extra help in holding my molding in place and also keeps me working at exactly the right measurement, all along the wall. You can also use Blue Painter's Tape to give yourself a proper, and very visual, demarcation if you prefer. It works beautifully and will keep you from having to erase or paint over all of those crazy pencil marks! 
Measure out the length of your longest wall or the wall opposite your door, and cut a piece of crown molding to fit. For this first piece, both ends will be squared off and cut at 90° (or a 0° angle on your saw) while the molding rests flat on your saw (on flat). 
Find the studs along this wall and be sure to attach your molding to the studs at every opportunity possible. You may also feel the need to secure in between the studs, but attaching to the stud's will ensure that your molding won't come crashing down at any given moment (hopefully).
Attach using your nail gun, and place your finish nails or brad nails along the top and bottom of your molding. 
This is the only piece you will install that will have 2 squared off edges if you choose the second installation option above, and if you choose the first installation option, do this exact same series of steps for the wall opposite this first wall, before you continue on. 
When you are ready to continue on to a piece that requires some fancy cutting, you will need to determine which type of corner you are working with before you can start cutting. This step is somewhat crucial and can get confusing along the way, so pay close attention.
The type of corner is always determined when viewing from the corner view like you see above. In other words, when you are looking at the corner itself.  I will show you below how this gets a tad crazy from the 'wall view' in the next step, so just remember each and every corner is it's own entity and the particular cut you will make is determined by looking at the corner itself! 
From this view (seen above), this is a fairly logical step. The left side is the left inside corner and the right side is the right inside corner. Determining the left versus the right here is easy to peg since they do in fact fall on the appropriate sides, and they are all considered inside corners if they are corners in a standard 4 walled room that doesn't have any pop outs or carve outs. Easy peasy, right? No matter which corner you are looking at, it will follow this pattern. No matter what! 
But... things get a tad crazy when you are facing the wall because then your corner types are in fact opposite. As you can see above, the left side of the molding will actually need to be cut as a right inside corner since that is which side of the corner it resides on, while the right side of your molding will need to be cut as a left inside corner... again since that is which side of the corner it happens to reside on. If you don't label your board appropriately, it's easy to forget which is which when you are cutting. So before you head out to your saw, mark your molding properly with the right side of the molding labeled as a left inside corner and the left side marked as a right inside corner. Your pencil is your friend here. Trust me on that! 
The image above shows you approximately how your cuts will look depending on which side you are cutting, or if you are cutting both sides for example. I am showing you this because again it tends to be a bit counterintuitive to how you might think your cuts should look when you are mitering two corners together, but it all works properly, I promise. 
Once you have labeled your side with the proper corner type, you will need to find your spring angle. This is the other crucial step in this project because in combination with the angle of your wall, at the corner in question, the spring angle will help determine the angle you miter and bevel at. Very important indeed. 
To find your molding spring angle you will need to use your angle finder tool (link in materials above) set along that portion of your molding as shown by the yellow line above. Your angle finder tool will likely come with directions and pictures, but just in case I am showing you where it needs to sit in order to take the measurement properly. Molding comes in a variety of spring angle varieties, but the most common tend to be 38° and 45° so we will work with those spring angle options here. 
Using the same tool, measure the true angle of your wall at the corner you are working on. While we all like to believe our home is perfection, it's very likely you may have a corner or two that are off a tiny bit and might actually be closer to 88° or 91°. These slight discrepancies will make a big difference to the fit of your molding so find your true measurements before you cut. 
I have created a chart for you below, for both 38° and 45° spring angles and wall angles ranging from 70° to 110°. Just find your numbers and go forth in bliss...
If you have a different spring angle for your molding you will need to find a crown molding angle finder app or tool on the web to help you calculate your proper miter and bevel angles. I used the Crown Molding Angle Finder App for iPhone and it worked beautifully! If you prefer to calculate on your computer or via the web, this tool is fabulous! 
My molding had a 38° spring angle and my walls did in fact have 90° angles (who knew?) so I was working with a 31.62° miter angle and a 33.86° bevel, which funny enough had marked indicators on my miter saw (thank you Ryobi). That made me feel like I was clearly on the right track! It's the little things, no?
Once you have your miter and bevel angles determined, it's time to set your saw and molding up for a proper cut!
The image above shows the setup for a left inside corner cut. Your miter angle will be to the right and your bevel to the left with the top of your molding against your saw fence and your molding laying flat. You will be keeping the material to the left of your cut.
For a right inside corner cut, the image above shows your proper setup. You will set your miter angle to the left this time and you will flip your molding so the bottom edge rests against the saw fence. Your bevel will sit to the left and you will be keeping the material to the left of your cut, just as with the left inside corner cut previously.
For my process, regardless of whether I am only making one fancy edge or two, I prefer to miter and bevel both edges or miter and bevel one edge and square the other, then check for proper fit before I begin the coping. Coping is a tad exhausting and so I would rather adjust for length and fit before I take the plunge and then have to redo it if the fit is off. 
When you are measuring for length on pieces that will be for the other walls aside from the first wall, I find it helpful to measure both the short and long length, just to give me a guide. The dimension you will definitely need is from the bottom of the molding you have already installed to the opposite edge of the wall or to the bottom edge of the molding on the opposite wall (depending on your installation option). Basically bottom edge to bottom edge since that will be your long length, so to speak (to get a visual of this, refer to the step above with the direction of the cuts diagram). 
If your general length fit is fabulous you can cope to remove material for an even more perfect fit. I find it easiest to mark along the curvy edge of the molding as a bit of a cutting guide. You will essentially use your coping saw to carve away material from the back side of that edge. You will want to carve along that edge as precisely as possible and remove, quite literally, as much of the material behind it as you can. The more you remove, the better and more precise your fit. You can see above what it will look like from behind. You may also need to square off your bottom edge for a nice tight fit. 
Check your fit again, this time to see if you have removed enough material from behind or if you need to remove a tad more.
Install your remaining pieces with your nail gun, just as you did your first piece, by placing your finish nails in all of the studs as well as in between, along both the top and bottom of your molding. Once your molding is in place you can begin your finish work! Use your caulking to fill in the corner seams, along the top and bottom edges where your molding meets the walls, and in all your nail holes. Your installation will appear flawless, even if like mine, it wasn't... Caulk is the magic eraser of the crown molding world, and your very good friend. Use it to your advantage. 
Tip: Overfill along any seams or holes and allow your caulking to sit for a minute. Then use a diaper wipe or a moist paper towel around your finger to wipe away excess with wonderfully accurate precision. Repeat if necessary to build up your layer of caulking and fill in areas that need that little bit of extra help!
Yahoo... congratulations you have just finished installing beautiful crown molding... If you need to paint, paint away, and if you chose the material I did that is already finished, then double yahoo to you!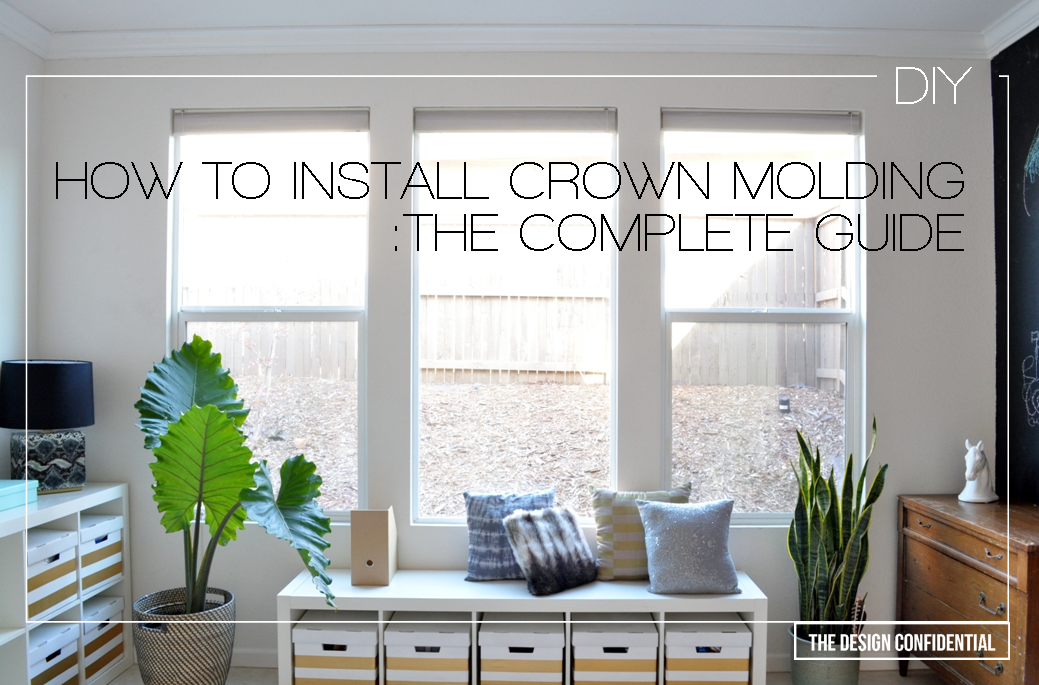 I couldn't be happier with my outcome, regardless of how I got there (which was definitely the long way around the block). Now I will be onto the next projects in this space, the first of which should probably be some trim around the windows to match! Also I could use a bit of greenery outside the windows to beef up the view... So much to do, so little time... I hope you all enjoyed this and I will see you back here this week for some other fun projects I have done recently! Xx...Rayan